Modest Musorgski
Composer Introduction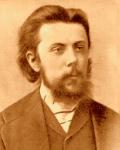 Modest Petroviç Musorgski (d. Karevo, 21 Mart 1839 - ö. 28 Mart 1881) Rus besteci.
19 yy. Rus
klasik müzik
bestecilerindendir. İlk piyano derslerini annesinden aldı. 1849'da askeri okula yazdırıldı. 1852'de St.Petersburg'daki Guards Cadet School'a (Harp Okulu'na) kayıt oldu. 1858'de psikolojik bir rahatsızlık geçirdi ve ordudan ayrıldı. 1869'da "Boris Godunov" üzerine çalışmaya başladı.
En ünlü eserleri 'Çıplak Dağda Bir Gece' ve 'Bir Sergiden Tablolar' (Pictures at an Exhebition) adlı eserleridir. Bu eserinde Mussorgsky, mimar ve ressam V.A. Hartmann'ın anısına, onun sergide yer alan 10 tablosunu yorumlamıştır.
Reference: Vikipedi
We are not afraid to be followed! Click to follow: twitter.com/klasiknotlari
Example Work by Modest Musorgski
Related Interesting Articles
Some of the Contemporary 19.-20. Century Composers
Reference info: "Modest Musorgski", 2009 , Klasik Notlari website, http://www.klasiknotlari.com/en/40/Modest_Musorgski.html

Share this page in Facebook.

Share this page in Twitter.

Share this page in Delicious.
Klasik Notları Sitesi klasik müzikte kim kimdir, hangi dönem bestecilerinin eserleri nelerdir, hangi solistler ne virtüözüdür, kaliteli müzik nedir ne değildir... Konserlerde hangi abiye giysiler giyilir, altın elmas nasıl mücevherli takılar takılır!... Bestecilerin hayatları nasıldır, besteleri ne zaman yazılmış, nasıl ve neler ifade etmektedir, neden, niye, niçin gibi sorular için bir kaynak olma amacındadır.