Pervin Cakar
Solist Tanıtımı - İngilizce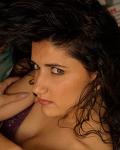 Born in 1981 in Turkey, she graduated at the University of Gazi in Ankara in 2003. She began to sing her vocal studies privately with Oylun Erdayi.

She moved to Italy to continue her studies at the Accademia D'Arte Lirica in Osimo, Accademia Musicale Umbra in Perugia with, amongst others, Carmen Gonzalez, William Matteuzzi, Harriet Lawson, Antonio Juvarra, Sergio Bertocchi and Conservatoire F. Morlacchi in Perugia with Michela Sburlati. She participated in several masterclasses, including mention that with Luciana Serra, Lella Cuberli. Mietta Sighele. Veriano Luchetti and Tiziana Fabbricini.

She made her debut with Carl Orff's Carmina Burana at the International Music Festival in Eskişehir in Turkey, followed by the role of Nerea in Handel's Deidamia at the Ankara State Opera House. Her Italian debut came in 2006 as Sophie in Werther at the Teatro Rosetum in Milan.

This was closely followed by appearances as Madame Herz İn Der Schauspieldirektor in Perugia and Cİttâ di Castello, İn 2007 Marianne/Duenna in Der Rosenkavalier for the Teatro Politeama Greco, Lecce.

The young soprano Pervin Chakar's sublime performances as Gilda in Rigoletto at the Musica Riva Festival with the Salzburg Junge Philharmonie Orchestra (conducted by Marco Boemi) and Fanny in La Cambiale di Matrimonio for the Wexford Festival 2009 (conducted by Christopher Franklin) have catapulted her into the international operatic limelight.

Current and future engagements include the success of this led to the invitation to sing the role of Eine Fünfzehnjâhrige İn Alban Berg's Lulu at Teatro alia Scala in Milan and Theater an der Wien conducted by Daniele Gatti in 2010, and in Gloria RV 589 by Vivaldi at Teatro Giuseppe Verdi Trieste (conducted by Lorenzo Fratini), in Riccione at the Gala concert with the Orchestra Sinfonica dell' Emiglia Romagna Toscanini (conducted by Giorgio Leardini).

She has invited to sing in The 36th Festival Delia Valle D'ltria in Martina Franca for the series of concerts of sacred music in Messa di Santa Cecilia by Scarlatti (conducted by Antonio Greco).

Winner of several concours, in 2010. The 4th International Singing Competition Magda Olivero in Milan (2nd Place). 11th International Opera Festival Competition Marie Kraja Ä°n Tiran (2nd Place), 6th International Vocal Competition Leyla Gencer in Istanbul (3rd Place), in 2008 The Competition of "Primo Pafcoscenico" in Cesena (1st Place), obtaining the role of Gilda in Rigoletto al Teatro A. Bonci di Cesena conducted by Fabrizio Maria Carminati, in 2008 The 3rd International Singing Competition of the Giovanni Pacini in Florence, obtaining always the role of Gilda in Rigoletto in Teatro Civico in La Spezia.

She was also finalist in the 60th As.Li.Co between 2008 and 2009, making her debut as Gretel in Hansel und Gretel at Teatro Sociale Como, Teatro Grande Brescia, Teatro Fraschini Pavia. Teatro degli Arcimboldi Milano. Teatro Ariosto Reggio Emilia, Teatro Comunale Bologna. Teatro Giuseppe Verdi Trieste, Teatro Comunale Pordenone. In 2009 she also made her debut at the Teatro La Fenice in Venice as Anna Kennedy in Maria Stuarda. conducted by Fabrizio Maria Carminati and directed by Denis Krief.

Her concert appearances have included the soprano solos in performances of Carmina Burana throughout Europe, and a critically-acclaimed recital programme, presented at the 58th Wexford Festival, accompanied by Rosetta Cucchi. November 2010.

And, in 2011 Pervini Chakar, soprano from Turkey, won the 28th International "Maria Caniglia" Singing Competiton.
Takip edilmekten korkmuyoruz!.. Takip için tıklayın: twitter.com/klasiknotlari
İlgili Yazılar
Referans bilgisi: "Pervin Cakar", 2011 , Klasik Notları sitesi, http://www.klasiknotlari.com/tr/294/Pervin_Cakar.html

Bu sayfayı Facebook'ta paylaşın.

Bu sayfayı Twitter'da paylaşın.
Klasik Notları Sitesi klasik müzikte kim kimdir, hangi dönem bestecilerinin eserleri nelerdir, hangi solistler ne virtüözüdür, kaliteli müzik nedir ne değildir... Konserlerde hangi abiye giysiler giyilir, altın elmas nasıl mücevherli takılar takılır!... Bestecilerin hayatları nasıldır, besteleri ne zaman yazılmış, nasıl ve neler ifade etmektedir, neden, niye, niçin gibi sorular için bir kaynak olma amacındadır.