Anastasia Chebotareva
Soloist Introduction - İngilizce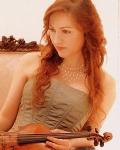 Anastasia Chebotareva graduated from the Moscow Central Music School and then, in the class of Prof. I. Bochkova, from the Moscow Conservatory. She made her International debut at the age of seventeen as a laureate of the Paganini International Competition in Genoa (Italy).

A top prizewinner of the Tchaikovsky Competition, Chebotareva made her first concert broadcast in 1990 with the BBC in London. In 1991, she won First Prize at the International European Juventis Festival, and, in 1992, First Prize and all Special Prizes at the International Rodolfo Lipizer Competition (Italy).

Since then, Chebotareva has appeared as soloist with such prominent Russian and European orchestras as the Tchaikovsky Symphony Orchestra directed by Fedoseev, the St. Petersburg Philharmonic directed by Temirkanov, the Vienna Chamber Orchestra, and many others.

She has performed as recitalist and soloist in the Royal Albert Hall (London), Beethoven Hall (Berlin), Wiener Konzerthaus and Bruchnerhaus (Austria), Megaro Hall (Athens), Tokyo Metropolitan Art Space Hall and Tokyo Opera City; Swoul Art Center, Blackwood Hall (Melbourne), the Great Halls of the Moscow Conservatory and St. Petersburg Philharmonic, the St. George Hall of the Kremlin Palace, and many others.

In addition to her touring activities, Chebotareva also performs charity concerts and leads master classes. She is currently a professor at the Moscow Conservatory and Sakuyo University (Japan), as well as a soloist of the Moscow State Philharmonic.
We are not afraid to be followed! Click to follow: twitter.com/klasiknotlari
Related Interesting Articles
Reference info: "Anastasia Chebotareva", 2009 , Klasik Notlari website, https://www.klasiknotlari.com/en/191/Anastasia Chebotareva.html
Sayfayı Paylaşayım

Share this page in Delicious.
Klasik Notları Sitesi klasik müzikte kim kimdir, hangi dönem bestecilerinin eserleri nelerdir, hangi solistler ne virtüözüdür, kaliteli müzik nedir ne değildir... Konserlerde hangi abiye giysiler giyilir, altın elmas nasıl mücevherli takılar takılır!... Bestecilerin hayatları nasıldır, besteleri ne zaman yazılmış, nasıl ve neler ifade etmektedir, neden, niye, niçin gibi sorular için bir kaynak olma amacındadır.