Orhan Ahıskal
Solist Tanıtımı - İngilizce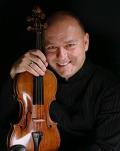 Violinist Orhan Ahıskal's performance career covers a wide array of styles and periods from authentic performances of Baroque and pre-Baroque music to avant-garde works of the 20th century. In addition to his wide repertoire, Ahıskal's warm stage persona, informative stage talks, and exciting performances have won him great receptions by a variety of audiences.

Ahıskal has performed extensively as a soloist and chamber musician with ensembles and orchestras in Lithuania, Russia, France, Italy, Greece, Yugoslavia, Cyprus, Spain, Britain and United States. He has given over 70 solo recitals on three continents, all received with critical acclaim. He has appeared as soloist with orchestras including the Presidential Symphony Orchestra (Turkey), the Settle, Sheffield International Festival and Sheffield Chamber Orchestras (England), and the Hartt Symphony Orchestra.

He has recorded Lou Harrison's Concerto for Violin and Percussion Orchestra and also premiered two new violin concerti with the Connecticut Virtuosi Chamber Orchestra and the New Dimensions Ensemble. In addition to many chamber music ensembles, such as the Goldberg Ensemble and the Scholars Baroque Ensemble (England), Ahıskal has been the concertmaster of many symphonic and chamber orchestras in the United States and Turkey. He has performed and been interviewed on over 30 radio and TV programs.

Ahıskal has distinguished himself in many competitions and has been the recipient of several awards, including Sheffield (England) Young Musician of the Year, a British Council Fellowship, Diploma of Honor (Viña del Mar, Chile), and was the winner of the Paranov Concerto Competition.

Born in Istanbul, Turkey, Dr. Ahıskal holds degrees from the Ankara State Conservatoire (Turkey), the Royal Northern College of Music (Manchester, England), and The Hartt School (Hartford, Connecticut, USA). In addition to his busy concert schedule, Ahıskal maintains an active academic career teaching and also lecturing on music and non-music related history subjects.
Takip edilmekten korkmuyoruz!.. Takip için tıklayın: twitter.com/klasiknotlari
İlgili Yazılar
Referans bilgisi: "Orhan Ahıskal", 2010 , Klasik Notları sitesi, http://www.klasiknotlari.com/tr/210/Orhan_Ahıskal.html

Bu sayfayı Facebook'ta paylaşın.

Bu sayfayı Twitter'da paylaşın.
Klasik Notları Sitesi klasik müzikte kim kimdir, hangi dönem bestecilerinin eserleri nelerdir, hangi solistler ne virtüözüdür, kaliteli müzik nedir ne değildir... Konserlerde hangi abiye giysiler giyilir, altın elmas nasıl mücevherli takılar takılır!... Bestecilerin hayatları nasıldır, besteleri ne zaman yazılmış, nasıl ve neler ifade etmektedir, neden, niye, niçin gibi sorular için bir kaynak olma amacındadır.